Date(s) visited: 2/10, 2/21
Location: 1826 Eubank NE;
Tele: 255-9634
Hours: M-S 10:00 a.m.-6:30 p.m.
Price Range: Inexpensive
Reviews:
"A-Ri Rang is not a restaurant or even a café per se. It's primarily a Korean grocery store where you'll find all sorts of Korean and Japanese food products. There are refrigerators and freezers filled with Korean specialties you won't find anywhere in Albuquerque. There are also rows and rows of kitchen gadgets, dishes and knickknacks. However, the best part is the tiny dining section located at the back of the store. Three stools line up in front of a short counter, and two pretty wooden dining room tables with four chairs each are the only seating. During lunch you might have to wait for a seat or you may choose to share a table with a stranger, if you're the friendly type."
My review: Definately one of the best and most authentic Korean places in this desert. Compared to Fu Yangs (a review of that soon), this is by far, much much better! Owned, managed and (of course) cooked by real Koreans! WOOT! You just can't beat that! You can also do Korean grocery shopping while you wait! The flavor in the two spicy soups I've had so far have a wonderful and fresh Korean flavor. Definately hot stuff:
"With pain comes happiness" -Ethan
I still have yet to try all the other dishes below, but as of now, a wonderful and very satisfying place to dine!
Hungry cactusâEUR(TM) verdict: A
~~~~
Since Ar-Ri-Rang is not really a restaurant, they're not really quick in preparing the food. It took a good 30+ minutes to prepare a table for 6~8 people last time. So call ahead (tele # on top). Here's the menu: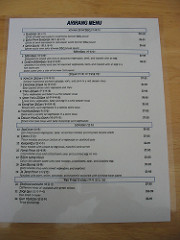 ~~~~~
Funny conversation while at work:
Surapong: Hey man
me: ham!
Surapong: For arirang, sign me up for 2 spicy pork buigogi
Surapong: thanks
me: 2???
me: are you crazy?
Surapong: why?
me: you can eat that much?
me: I think one is enough…..
me: unless you're really hungry
Surapong: no
Surapong: I mean #2
Surapong: the spicy pork buigogi
Surapong: I want one
me: oh thankgoodness
~~~THE MENU~~~
I'll try to cover all the menu items….
~~ Korean Style BBQ~~
#1 : Beef Bulgogi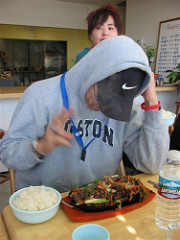 #2: Spicy Pork Bulgogi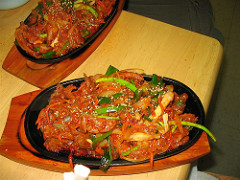 #2.5 (Special chicken version of spicy bulbogi for Bankim)
#3: Spicy Squid BBQ: N/A
~~ BiBimBab ~~
#4: Bibimbab (no stone bowl!)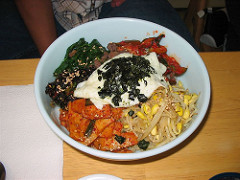 #5 DolSot Bibimbab – I suppose Dolsot means 'in a hot stone pot'?
~~ JiGae or Tang ~~
#6: KimChi JiGae! (Kimchee, tofu, pork, red pepper soup) THE BOMB!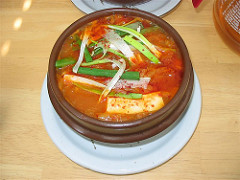 #7: DenJang JiGae (bean paste, veg, tofu) N/A
#8: Tofu JiGae (tofu, veg, beef, chili pepper soup) N/A
#9: Soon Tofu JiGae (loose tofu, veg, beef, egg, chili pepper soup) N/A
#10: DongTae JiGae (Pollack fish, veg, special spicy soup) N/A
#11: YookKaeJang (beef, veg, spicy soup)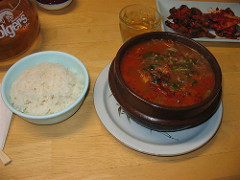 Not as filling or spicy as #6. It does have slices of beef, but there are also these weird veggie things: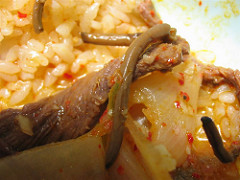 They look like short buck wheat noodles, but I'm still not quite sure what they are… fungus? root of some sort?
#12: Dduck ManDu Gook (sliced rice cake soup, beef dumplings, veg) N/A
~~ noodles ~~
#13: Jap Chae (stir fried veg, beef, vermicelli, toasted sesame seed)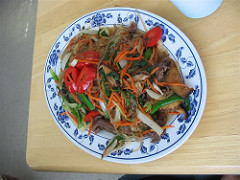 #14: Udon (veg or seafood)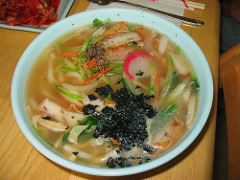 (seafood)
#15: KaiGukSu (Flour noodle, egg soup, zucchini, carrot) N/A
#16: Neng Myun (cold noodle soup, sliced beef, pear, boiled egg on top) N/A
#17: BiBim Neg Myun (spicy chili pepper paste, cold noodles, sliced beef, pear, boiled egg) N/A
#18: Jjam Bbong (spicy noodle soup, mixed vegetable, seafood) N/A
#19: Ja Jan Myun (noodle with pork, onion, potatoes, zucchini, Chinese bean paste)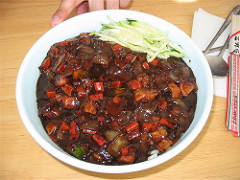 ~~ pan fried dishes~~
#20: Seafood pancake (seafood, green onions) N/A
#21: Jogl Gui (pan fried croaker) N/A
#22: Gun Mandu (fried dumplings) N/A
~~~~~~~Pictures of people~~~~~~~~
~~~~
Other items in the restaurant: