The apples are finally ready! Every year around this time, Dixon Apple Orchard begins to sell their harvest to the New Mexico public. Everyone tells me their champagne apples are the best. Apparently they are so good that lines are formed while the sun is still down! Having heard this, how could I not join the fun?
Here's a run down of their apples (though only Champagne and Red Delicious were available as of this writing)
Champagne

Sparkling
Burgundy

Red Rome

Red Delicious

Flavor

Sweet & Spicy

Tart

Bland/Mild

Sweet

Texture

Firm

Firm

Firm

Firm

Salads

Excellent

Excellent

Fair

Good

Baking

Excellent

Excellent

Fair

No

Eating

Excellent

Excellent

Good

Excellent

Sauce

Excellent

Excellent

Excellent

No

Pies

Excellent

Excellent

Excellent

No

Freezing

Excellent

Good

Sliced

No
I woke up at 5:15am and took a quick shower before Surapong arrived. We then carpooled and picked up Theckla. Stopped at Einstein Bagels for a sun dried tomato bagel w/ smoked salmon spread. Oh and a hot cup of English Breakfast tea =) woot for an early day!
After getting off the freeway, we had to off road a bit. A dusty road was the only way into the Dixon orchard. Once we arrived, we were so relieved we didn't arrive any later…the line had already grown so very long…
[yt:3wuPw9_gOeo]
After waiting almost 45 minutes, we finally got into the store where we were greeted with free apple samples! The champagne apples were crisp and sweet, but…no champagne flavor!!?@!?@! haa haa! The flavor was sweet and crisp – very similar to Fuji apples. I guess I had expected something more. Oh well, apples are apples I suppose…don't get me wrong, these are great apples!!! =)
Inside you could smell the sweet aroma of apples. It was just wonderful! I wish my apt could smell this way! Oh, due to the abundance of rain this summer, the Dixon orchard was blessed with a huge harvest…which means apple filled tummies = everyone is happy!
Theckla with our goods: 2 boxes of apples, 2 1/2 bushels and one liter of apple cider! Wooooooot! When we left, we were surprised how much longer the line had grown!
[yt:IcZ72_Vcpas]
Wheel barrels were in such high demand that a fellow actually followed and waited for us to unload so he could take it!!!!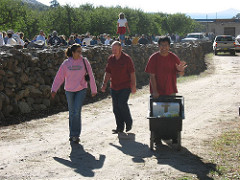 Here's a vid showing just how long the cars had to wait…so long that people decided to go on foot!
[yt:rzn24TGZ5D0]
On the way back, we passed by an earth dam.
An Earthen dam, or earth-fill dam, is a dam constructed as a simple embankment of well-compacted earth, sometimes with a watertight concrete or clay core or upstream face, or sometimes with a hydraulic fill to produce a watertight core. A type of temporary earth dam occasionally used in high latitudes is the frozen-core dam, in which a coolant is circulated through pipes inside the dam to maintain a watertight region of permafrost within it.
Because earth dams can be constructed from materials found on-site or nearby, earth dams can be very cost-effective in regions where the cost of producing or bringing in concrete would be prohibitive.
When I got home, the first thing I did was to get a close up of the champagne apples of course!
I need to thank my manager and coworkers for telling me about Dixon apples!