Joseph: I duno what's up with the expression I'm making below, but the breakfast crepe we had on Saturday morning was quite whole wheated and good. It was on the recommendation of Tina and her roommate (Esther) that we go try it. Much props for the recommendation. You can see that Ethan took pretty detailed pictures of our food as usual.
Me: Nothing better than to start a day with a healthy yummy wheaty hot breakfast. I've never had a breakfast crepe before, not to mention it being whole wheat!
We had different fillings – mine was mushrooms and eggs. It was so wonderful, I'm sure you would have liked it!! Oh, and I have to admit, I finally lost my grip and ordered a cup of coffee (I haven't had one since I stopped 1.5 years ago!!!) What a breakfast!
Joseph: You can see that the subway was pretty close to where we were staying. The picture below is where we stayed, beyond that fence, so there would be much noise every morning as the subway passed by their place. Quite the unique experience.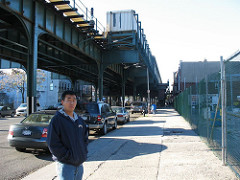 Me: The subway was a big part of our trip – not only was it our primary form of transportation, it was also our alarm clock. Check this out to see why and be
:
[yt:Lo5-Em8NNTg]
Waiting for the subway usually takes only 5~10 minutes. Sometimes we wait outside and sometimes underground:
There was much in the Met Museum. This place is freaking huge and we only went by the recommendation of several friends. Plus, this museum was free to visit however there is a suggested donation amount of 20 dollars a person. I didn't feel like being sheisty, so I ponied up 5 bucks. And like most museum, there was a lot of art to be admired.
One exhibit of note was this Egyptian Exhibit where an entire structure was transported from Egypt and placed in this huge room and carefully recreated. Much impressive. Below are some pictures from that exhibit.
Here, check out my beautiful panoramic by clicking on it! You can see Joseph and the huge room to the far left.


That's me waiting in front of the Metropolitan Museum. Since Joseph walks so slow, you know who has to carry the backpack!!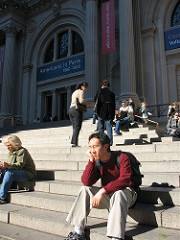 Here are some other views inside and around the huge Egyptian room:

I wish my living room was that spacious with such a large side window!
Yea, pretty cool that kids and other people alike come to sketch and draw sculptures. Must take a lot of dedication and patience. Especially for the kids…some of them looked like they were starting to fidget and wanted to leave and go out and play.
Christine would be proud of me…here is one of my most artsy photos ever…two couples waiting for breakfast!!!!
Very nice shot Yeast.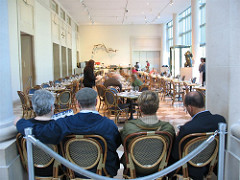 BIRDS!@#$@#!!
yea, i duno what's up with this exhibit. It's called the "transparent monument", but the artistic ignoramus in me just sees a glass pane with dead birds around it. Supposedly, another exhibit is the launching of a firework that explodes in a black smoke cloud over Central Park…yea…i duno..I don't get art.
Here's the best exhibit in the museum below. I stood there for a while admiring this exhibit…heh..
Joseph was just kidding about the 'exhibit'…hahaha I was suppose to digitally add something to the white wall..but for now, let's just call the white art (can't be as bad as the transparent monument!!!).
Part 3 coming up in a few days! Thanks for reading!