One of the most memorable moments in New York would have to be the trapeze class at Trapeze School of New York (other branches at Baltimore and Boston). For $47~57, you learn to trapeze (just like in the circus) on the roof of Pier 40, on the west side of Manhattan. Here's what it looks like from the trapeze platform…you can see the street 4 floors down to the left of the first picture: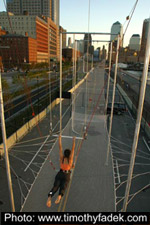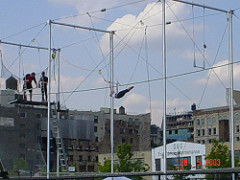 The class takes 2 hours, with the majority of the time getting you comfortable on the horizontal cross-bar. You will have 3 tries to perfect swinging off the platform with your arms on the cross-bar…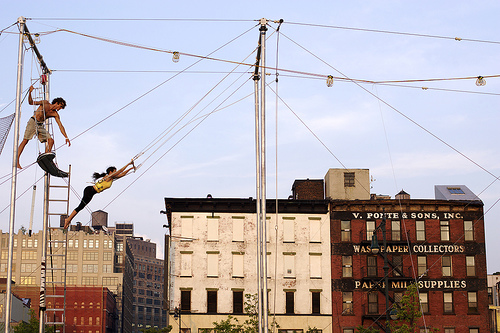 …then immediately tucking your knees in so you can latch onto the cross-bar with your legs: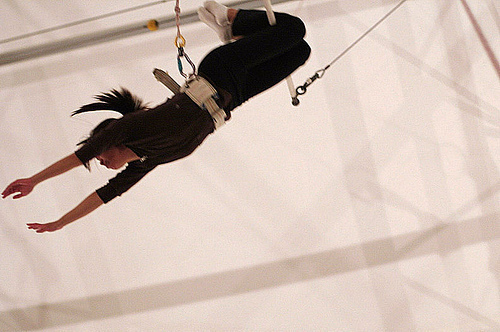 Sounds scary? Got the guts to try? Alex the Brave went first! Here's a shot of Alex on the platform readying his moves:
Tell you the truth, it gets pretty scary the first time you're up on the platform, especially with the wind blowing…but after the first go, the fun takes over and you can't wait to go up and swing again! Here's one of my attempts at the cross-bar:
[yt:fD5K-VFIsfo]
And this is how you get off the safety net…pretty cool?
[yt:FaWWEdieojg]
Once you have perfected swinging on the cross bar and have received a check mark from the instructor, you proceed to the final test: The Connection — if your timing and moves are all perfect, then the instructor on the other cross bar should be able to catch you by your arms (while you hang upside down!). It's definitely not easy at all. To illustrate, here's Gary very close attempt:
[yt:ZfoMDFG_trM]
I was actually fortunate to have made the Connection (a very very satisfying moment), but my memory card ran out of space right before it happened (so no video…)! Booooo! A Kodak moment…oh so sweet the memory but lost forever…=(
Thanks for the recommendation Mike! =)
FYI: the more agile you are (i.e. girls), the easier trapezing will be! Guys will need this:
hahaha…
Hungry Cactus' final verdict: A
Definitely a must-do in New York…an experience you can't find anywhere else!