3200 Central Ave SE, Albuquerque, NM [view FoodMap]
A few weeks ago, before Mike's Saturday Game Night, we decided to grab dinner. Unfortunately, since Ar-Ri-rang (our fav restaurant) closes at 6:30pm, we couldn't go there for dinner Mike found an alternative Korean restaurant called Korean BBQ House. It's West on Central, ~10+ min. drive. So Mike, Kuan, Tian, Betty, Stef, Surapong and I headed out there…parking was pretty easy on the side streets.
~~~
Let's start by introducing what we ordered….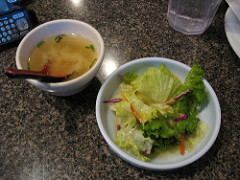 Salad tasted stale. Soup was ok.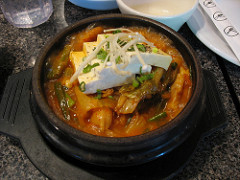 Above is the Kimchee Jikae ($7.95) I ordered this so I could compare with Ari-ri rang.
Napa cabbage, tofu in a chili pepper stew, pork. Soup.
The Jikae was decently spicy, but I was disappointed by 'bacon slices' in it (pork and bacon are quite different…DAMMAT!) Big deductions. The spice didn't have the fresh taste in it either. In addition, I only got a small bowl of rice to go with it. Not very filling, and not very satisfying.
Let's see how the other dishes fan out…
Above is Surapong being shy. Behind him, that's where they cook the bulgogi dishes. Moving onto the side dishes…
I dunno about you, but they sure were plain, tasteless and boring!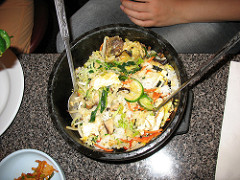 This is Stef's (~$10) Dolsot bibimbob ( Steamed rice, vegetables, red pepper paste on the side, fried egg, served on a hot stone pot.) After the meal, I think hers was a better deal, though still pricy compared to Ar-ri-rang.
Kuan (with his salmon dish); Tian and me (smiling and happy before we realized how bad this restaurant really was).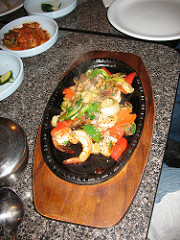 Tian's seafood something…you know that cuz he always order seafood.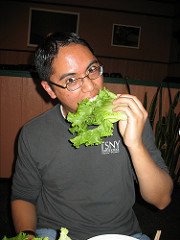 Mike's diet. 'Nuff said.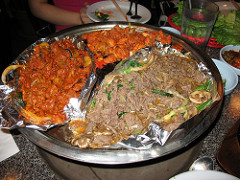 Above, the Bulbogi…chicken/pork/beef… Tasteless, poorly cooked. Not impressive. I think I can do a better job…seriously.
~~~~
I'm not impressed with any of their dishes. I definately won't ever go back to Korean BBQ House, even if it means to eat dinner before 5pm at Ar-ri-rang. So, I'll keep this review short and to the point…
Hungry Cactus' verdict: C+
Update: I heard they have a really good sushi buffet in the back? Hmmm…I will need to investigate further with caution…