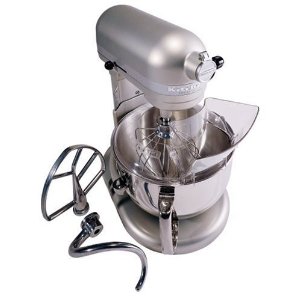 Kitchenaid Mixers
If you bake at all, you most definitely have a $200+ Kitchenaid mixer.  They are known for their strength and reliability — lasting a lifetime and often being passed on from generation to generation.
Since my mother has been using the same mixer for the past 30 years, I decided to get her the newer, stronger and larger Kitchenaid Professional 600 mixer.  As expected for over two years it mixed and mixed…but then one day, without any notice, it decided to play dead.  Playing dead does no good, and neither does an expired 1 year warranty…*weak sauce*!!!!  Calling up Kitchenaid support didn't help either, as repairs and shipping would cost over a hundred bucks.
Things you need to know
Well, the next best thing I could do was to search online.  These articles gave me a head start: link 1, link 2, link 3
Unfortunately, the models they repair are slightly different (not my Professional 600 KP26M1XNP).  To save you the trouble, here is how I fixed my mixer for $35 shipped: $10 (gear replacement) and $25 (grease replacement).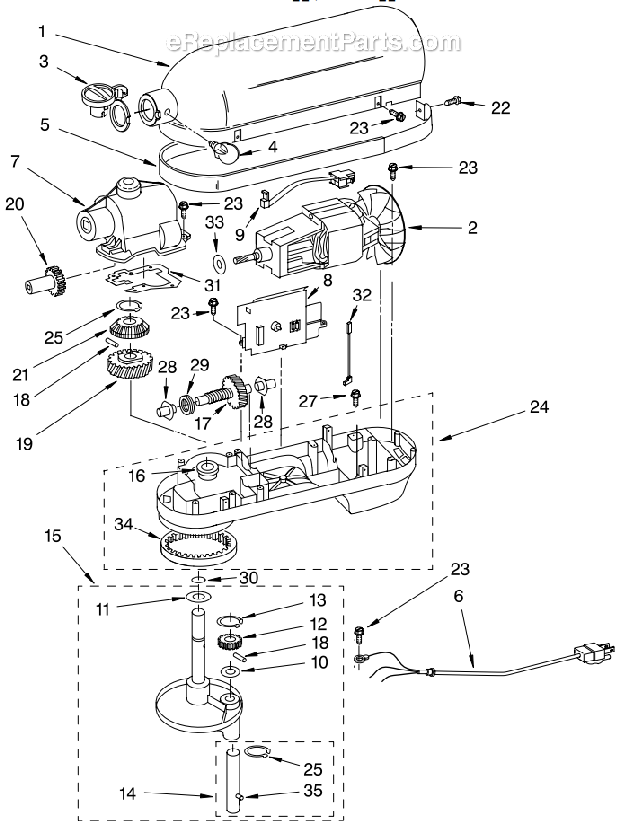 Determine broken parts:
This site had a really useful parts diagram.  Remember you need to determine what parts need replacing (Step 6 below).  Make sure you find out for yourself!!!
Also, make sure to click Page A, B & C to see all the parts.  The parts diagram will help you disassemble and figure out what the parts look like under all the nasty grease.
Replace the grease:
It was recommended by a few people to use some high quality grease.  For $25, it's not a bad investment to keep the machine running smooth.
Directions on opening up the mixer
Step #1: Unscrew the back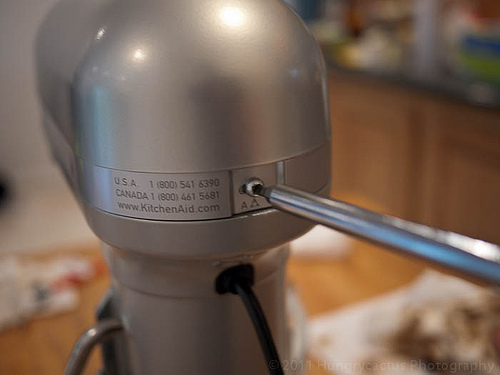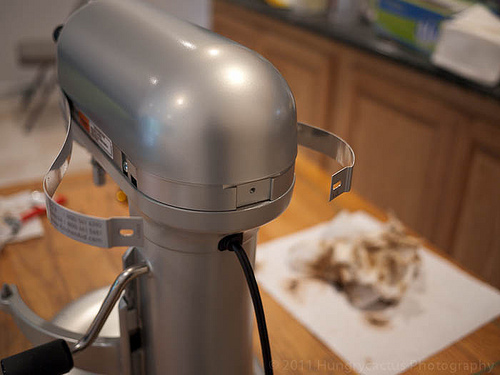 Step #2: Take band away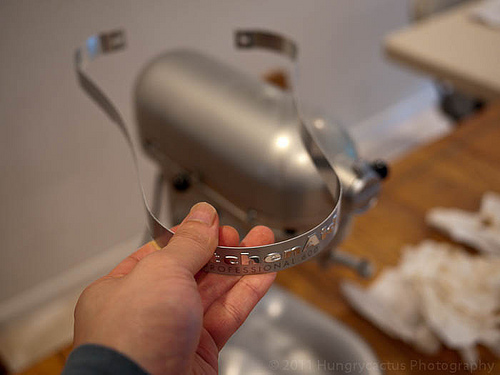 Step #3: Unscrew side screws: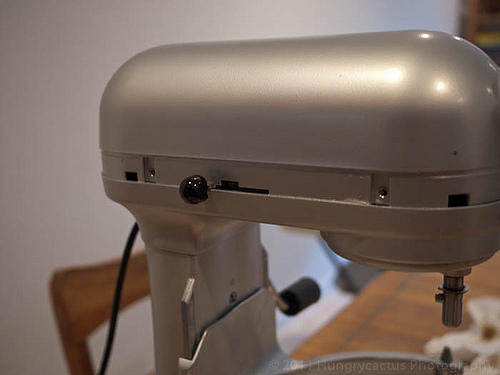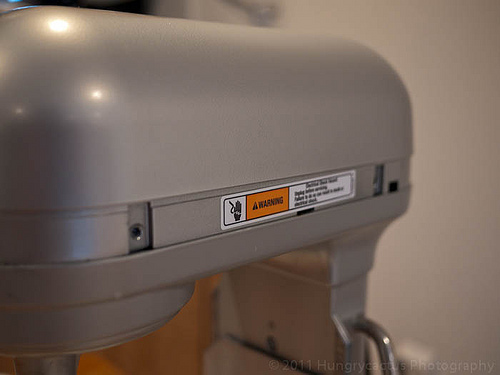 Step #4: Take lid off.  Take 4 screws off the metal casing: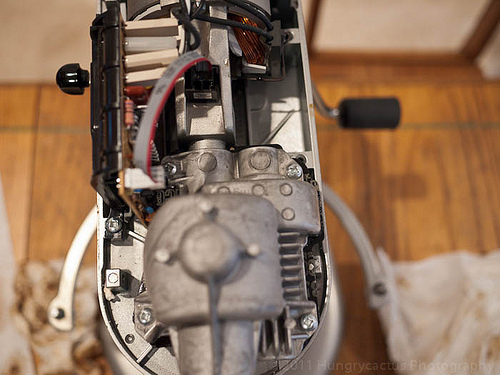 Step #5: Take metal casing off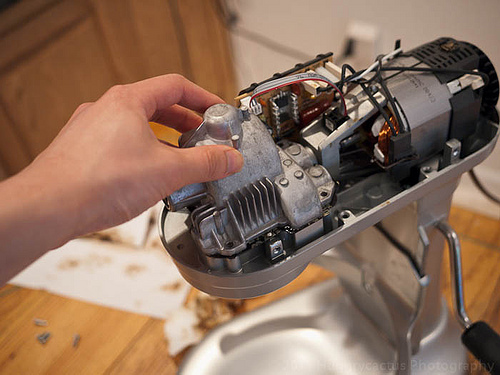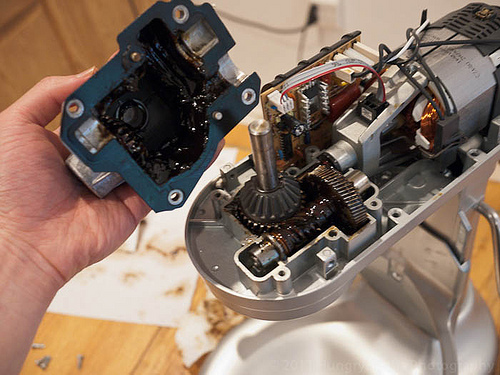 Step #6: Find out what is damaged.  For me it was this gear.
I had to take the ring above the damaged gear away: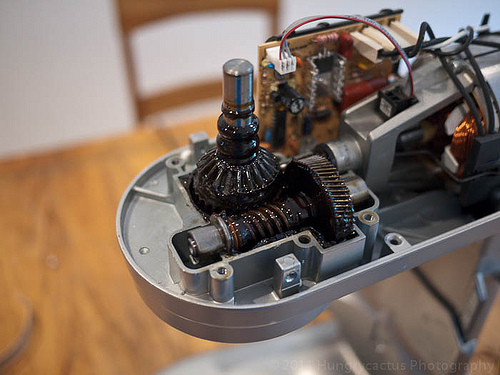 Step #7: Replace damaged gear.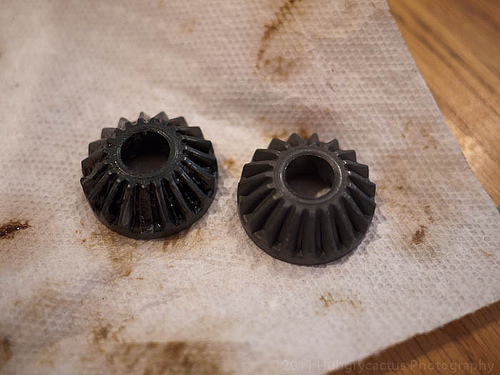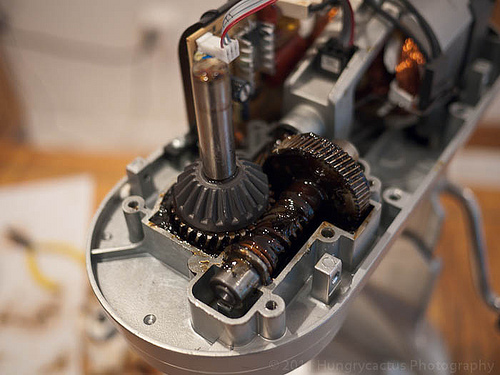 Step #8: add ring back on top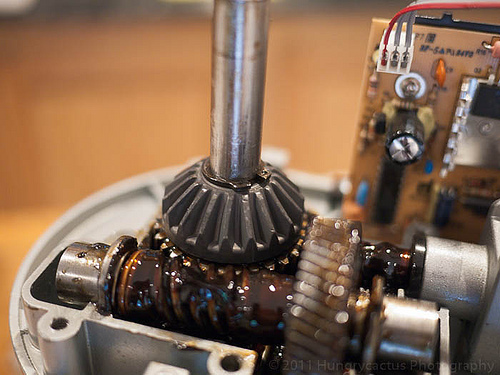 Step #9: Replace grease.  Then reverse steps 1-5.  Make sure all screws are tight.
Done!  My Kitchenaid mixer is now alive and kicking again! =)
Good luck on your repairs!
-Hungry Cactus :o)