Easter is just around the corner….
What do you celebrate during Easter? Bunnies? Colored eggs? Peeps? …Or do you celebrate the ressurection of Jesus Christ, the son of God?
Well, this past Monday while I was at BSF Bible study, brother Cecil passed around bags of jelly beans. Here's what it was: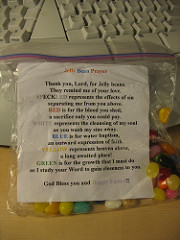 (click to enlarge!)
I thought it was a great idea! May we all celebrate the true meaning of Easter…because it is only through Jesus that we may come to know the one and only God!